MUSIC (COMMERCIAL)
MUSIC HATH CHARMS TO SOOTHE...
The music industry's varied response to 9-11 in a year of poor business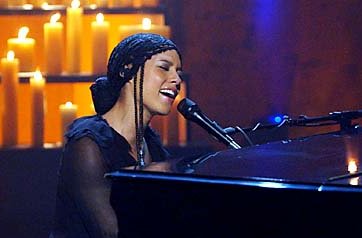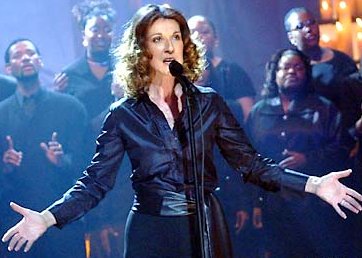 Among the performers who donated their time at the September 2001 telethon America: A Tribute to Heroes were pianist-vocalist Alicia Keys (top) and Celine Dion -- a Canadian who sang "God Bless America."
THE SHAKY YEAR
The year 2001 was not a good one for the commercial record industry. Sales were flagging even before 11 September. Both technology and climbing prices for product and talent could be blamed.
A sales downturn was posted for the first time in a decade. In 2000, total sales increased 12 percent over 1999, but in 2001, they were 5 percent below 2000's figures, according to SoundScan. New release numbers were down 6 percent over 2000. (1)
The Recording Industry Association of America reported sales of $13.7 billion in 2001, compared to $14.3 billion in 2000. Association President Hilary Rosen blamed the slowing economy that framed 2001 and the disruption of the 9-11 attacks. (2)
The attacks temporarily shut down the concert biz and disturbed shopping habits. One industry veteran said, "The business is broke, and that just accelerated the decline. This is not a growth industry." (3)
The record giants were gushing red ink. BMG Entertainment had a net loss of $73.1 million through September 2001, while EMI, based in London, England, lost $77 million by 30 September. Smaller and "indie" labels suffered when their major distributor, DNA, went bankrupt late in 2001. (4)
Other reasons for the industry's suffering were premium prices on new CDs -- $19.95 was common -- and the emergence of CD "burning." The CD burner, a peripheral device for use with a personal computer, could be purchased for under $200. With the software, the also inexpensive CD-Rs, or recordable compact discs, entire albums could be copied, as well as downloaded MP3s being shifted from a computer hard drive to a CD.
The RIAA's Rosen said, "When 23 percent of surveyed music consumers say they are not buying more music because they are downloading or copying their music for free, we cannot ignore the impact on the marketplace." (5)
Napster, the controversial song-swapping service created by Shawn Fanning in the late 1990s, had started the attack on the music monolith in the last century. Other song-trading software began to appear on the World Wide Web, such as Gnutella. Songs were quickly duplicated and spread across the Web by fans. Even after Napster agreed by March 2001 to block copyrighted cuts from its archives, swapping was still going on at other sites. Napster by 9-11 was morphing into a subscription service.
In the first six months of 2001, the concert business was down 12 percent from the same period in 2000. Concert attendance dipped 16 percent. Said one concert executive, "Lots of promoters have been trying to use the Osama excuse. But by Sept. 11 the outdoor summer amphitheater season was basically done." (6)
Reasons cited for mediocre concert business were high ticket prices, which often included extra fees for venue maintenance and for the privilege of purchasing tickets at a dealer, such as for TicketMaster.
Radio stations also were struggling with the worst advertising revenues since World War II had ended. The Radio Advertising Bureau reported that ad buys were down 12 percent in September 2001, compared to the previous year, and the entire national sales decreased 23 percent. Just two years earlier, radio ad schedules were sold out, and stations had to turn away customers.
Music writer Jim Washburn criticized the radio industry of his time as having become "ghettoized"; that is, "listeners tune into a station knowing they will only hear a narrow ribbon more of what they like, and their chances of liking anything else are severely diminished by their never hearing anything else." (7)
Washburn said radio execs were operating on the assumption that listeners wanted the same thing day after day. If they wanted new products or sounds, the stations simply ignored them.
As an example, Joel and Ethan Coen's 2000 movie, O Brother, Where Art Thou? produced a down-home soundtrack of early 20th music appropriate to its 1930s Mississippi setting. The album hit Billboard's top 10 by 2001, supported by virtually no airplay. It was boosted further with five Grammys at the 2002 awards.
The only genre to show growth after 9-11 was contemporary Christian music. Part of this was due to a search for comfort and attempts to cope. "They're looking for hope. Christian music offers hope. It offers the message of Christ, that Christians believe it's the answer," Matthew Turner, editor of Contemporary Christian Music, told ABC News. (8)
MOOD MUSIC

Listen: Alan Jackson, "Where Were You (When the World Stopped Turning)" Excerpt
(3.2 MB)
In the month or two after the US attacks, people appeared to be searching for comfort and escape from the country's mood. Older singles took on new meanings. Some, such as Enya's "Only Time," jumped back onto Billboard's charts.
Such digging into older catalogs was part of the quest for comfort. Not only were older songs applied to 9-11, but retro music perhaps helped soothe people.
Political columnist George Will wrote about a return and rediscovery of familiar music from the last century. He learned that music critic Terry Treachout had heard jazz singer Diana Krall performing the standard "The Look of Love" while at a McDonald's in Manhattan in early 2002. It was from her album of classics, including "S'Wonderful" and "Cry Me a River." The album was number 8 on Amazon.com's CD sales chart at that time.
Will asked, "Are standards out of date? Certainly. They always are out of date. That, says playwright Alan Bennett, is why we call them standards." (9)
Not only did yesteryear's music get airplay in 2001, but older pop and rock acts themselves received attention through CD compilation and for contributing 9-11 ballads. The number one album of 2001 was 1 by The Beatles, a compilation of the Fab Four's number one hits. The CD remained at the top position on Billboard's Hot 100 for eight weeks in 2001 and outsold comtemporary artists of the day, such as Outkast, Alicia Keys, Shaggy and 'N Sync.
The tenor and mood of 9-11 songs took at least two general tacks: tearful, memorializing and contemplative, with slow tempos, and rowsing and patriotic, with loud lyrics and medium to fast beats.
Songs addressing 9-11 that autumn also came in two varieties in terms of timing: either cuts from older albums, or those written directly about the tragedies. Radio stations had their hand in promoting these tunes, as well as the Internet with its MP3 innovation.
Individuals sometimes selected songs for "homegrown" pop culture items, such as Macromedia Flash movies and Microsoft PowerPoint about the attacks. These little movies and slide shows were widely circulated through e-mail and posted on multiple Web sites.
Radio stations also pushed certain songs that they felt reflected people's moods in the weeks after 9-11.
EXAMPLES OF PRE 9-11 SONGS RECRUITED
Among songs used in homegrown pop cult artifacts were Victoria Williams' 1990 ballad "Can't Cry Enough." It was the music for a Flash movie by California designer Jason Powers that showed many of the victims' faces and news photos of the dramatic day:

Victoria Williams
I'm going to live my life
Like every day's my last
Without a simple goodbye
It all goes by so fast
And now that you're gone
I can't cry hard enough
No I can't cry hard enough
For you to hear me now
Country singer Garth Brooks' "The Dance" (1989) received a similar treatment on a Flash movie, as well as WTC audio added by a radio station. College student Rob Peck's tribute was similar to Powers', with victim images and photos of memorial ceremonies.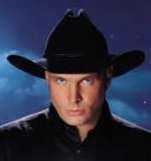 Garth Brooks
And now I'm glad I didn't know
The way it all would end the way it all would go
Our lives are better left to chance I could have missed the pain
But I'd of had to miss the dance
Yes, my life is better left to chance
I could have missed the pain, but I'd of had to miss the dance
"Only Time" was from A Day Without Rain, released in 2000 by Enya, an Irish New Age pop singer. The song also appeared in a movie released that year, Sweet November, with Charlize Theron and Keanu Reeves.

Enya
Just a few days after 9-11, disk jockeys at several pop stations produced unauthorized remixes of "Only Time" with recordings taken from news reports from New York about the World Trade Center attack. Versions came from WPLZ-FM in Indianapolis, Indiana, and WMZR in Albany, New York. The Indiana version was the best known, with "actualities," or actual recordings of reporters and witnesses interspersed with Enya's vocals. It was known as the "WTC mix."
Enya herself authorized a new mix of "Only Time" that at initially was distributed only to radio stations. After clamoring from fans, the "radio remix" was distributed to music stores in time for the 2001 holiday season and included a cut of "Silent Night" in Gaelic. Proceeds went toward 9-11 relief funds.
Who can say
where the road goes
where the day flows
only time
And who can say
if your love grows
as your heart chose
only time
Who can say
why your heart sighs
as your love flies
only time
Like John Ondrasik of Five for Fighting, Enya learned through fan comments and e-mails how her song touched people. "When people got in touch with me and told me about what had happened with that song, it was very strange at first. But it's really quite incredible. That's the big bonus I get. People will tell me about a song and how it helped them with their own emotions and lives." (10)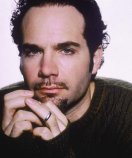 John Ondrasik
Ondrasik, a composer-pianist from San Fernando Valley, California, had released America Town in fall 2000. The song "Superman (It's Not Easy)" already was a single with good airplay in summer 2001. It looked at the Man of Steel's reluctance to be a hero.
After Ondrasik performed the single at The Concert for NYC in October 2001, it joined the "catalog" of 9-11 music. With firefighters, police, military personnel and civilians being hailed as heroes, "Superman" became an anthem about the duality of man and superman.
It might sound absurd
But don't be naive
Even heroes have the right to bleed
I might sound disturbed
But won't you concede?
Even heroes have the right to dream
It's not easy to being me
The song, however, had been a hit for Ondrasik before the attacks. "I was getting tons of e-mails from kids, adults, grandparents, across the board, about what this song meant to them, and even after Sept. 11, 80 percent of the e-mails have a much more personal connection than Sept. 11. But obviously certain songs took on a new dimension, whether it was 'Superman' or a U2 song." (11)
Patriotic fare was shipped to record stores, whether it be Whitney Houston's version of "The Star Spangled Banner," or country singer Lee Greenwood's 1988 hit "God Bless the USA" (which had been a campaign theme song for President George W. Bush's father the same year.)
BALLADS FOR AN AMERICAN TRAGEDY
A number of commercial artists responded with tunes especially written about the attacks. Many came from older stars whose heydays were behind them, the country music community, and singer-songwriters who did not have superstar status but were critically acclaimed.

Alan Jackson
Alan Jackson, the shy, Stetson-wearing singer from Georgia, debuted "Where Were You (When the World Stopped Turning)" at the Country Music Association Awards on TV in February 2002. The song also was included on his Arista album Drive.
Jackson said he sat up suddenly in bed one night in late October 2001, with most of the lyrics coming into his head. "After the 11th, I was pretty disturbed, like most people. ... I'm sure a lot of people who write songs felt the same way -- but I didn't want to write a patriotic thing and couldn't think of anything that didn't feel like you'd be taking advantage of it commercially. So I didn't think anything else about it, to be honest." (12)
"Where Were You" is typical of the "middle America" pop culture of 9-11, with references to Christianity, patriotism, strong emotions and the singer's own admitted ignorance of geopolitics (not knowing the difference between Iraq and Iran).
Did you weep for the children who lost their dear loved ones
And pray for the ones who don't know
Did you rejoice for the people who walked from the rubble
And sob for the ones left below
Did you burst out in pride for the red, white and blue
And the heroes who died just doin' what they do
Did you look up to heaven for some kind of answer
And look at yourself and what really matters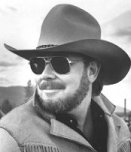 Hank Williams Jr.
Hank Williams Jr., son of the country legend who became a major star in his own right, also weighed in on 9-11. Williams turned to his early '80s hit "A Country Boy Will Survive" and converted it to "America Will Survive." It was included on his CD The Almeria Club. This represented the loud American approach to addressing the tragedy. This was an anthem of getting up after being knocked down, from a rural man's perspective.
I had a good friend in New York City
Never called me by my name, just "hillbilly"
My grandpa taught me how to live off the land
And his taught him to be a good businessman
He used to send me pictures of the Broadway nights
I'd send him some of granddaddy Williams' homemade muscadine wine
He was lost like so many in the terrible strife
We're all asking God, "Why, oh why?"
A tooth for a tooth, and an eye for an eye
That's an old slogan we're gonna revive
Because America can survive
America will survive
Canadian-born rocker Neil Young was sometimes labeled the "godfather of grunge" for his naturalistic, word-driven rock. He had written protest songs for years, such as "Ohio," about the shootings of protesting students at Kent State in 1971. He produced the slow-boil tune "Let's Roll," included on his early 2002 album, Are You Passionate?

Neil Young
Featuring a repeating guitar riff that builds and suggests something dramatic is going to occur, this song retold the decision of passengers on United Airlines Flight 93 to attack four hijackers, which resulted in the jet crashing in rural southwest Pennsylvania. One of the men, Todd Beamer, was heard over a cellular phone saying to Jeremy Glick and Thomas Burnett, "Are you ready, guys? Let's roll!"
Young recorded the tune during Thanksgiving weekend 2001 and had it to his label, Reprise, by 2 December. His publicist, Bill Bentley, said: "He just felt it was something he wanted out immediately, not thinking about the commercial side of it." (13)
One's standing in the aisleway,
Two more at the door,
We've got to get inside there,
Before they kill some more.
Time is runnin' out,
Let's roll.
Time is runnin' out,
Let's roll.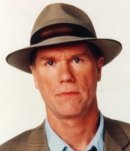 Loudon Wainwright III
Folk singer-songwriter Loudon Wainwright III composed a sad, simple ballad, "No Sure Way," accompanied only by an acoustic guitar. A 21st century Orpheus descends, via the subway, on 11 September 2001 into an underworld called New York City. Four subway stops are mentioned, and the letters "W and T and C." As the New York state native's story states:
Chambers Street -- a closed ghost station
Passing through, we seemed to glide
Like prisoners inside compartments
On some house of horrors ride
(Chambers was a WTC stop.)
Wainwright said he was relating a story, but also trying to capture "the horror -- that was the emotion I was trying to get, the scariness of it. That was unusual for me. Rarely have I dealt with a topical issue that's been this much of a personal issue." (14)
Another veteran vocalist-songwriter, John Hiatt of Tennessee, composed a ballad that like a large part of the 9-11 pop culture, focused upon the Big Apple aspect of the disaster and omitting the Pentagon and Pennsylvania.

John Hiatt
All the familiar references are there, including the tumbling of the World Trade Center, the heroes and the resilience of America's largest city:
On that fiery day
When the towers gave way
New York had her heart broke
And many heroes died
Trying to save someone inside
When New York had her heart broke
New York had her heart broke...
And the world changed that day
Forever, some will say
Well, New York had her heart broke
But like a lover she will rise
Once again to touch the skies
OVERSENSITIVITY & PHILANTHROPY
The music industry was at turns oversensitive and flowing with generosity in fall 2001.
A case of prevention that also could be construed as censorship occurred shortly in the week after 9-11. Clear Channel Communications, which programmed more than 1,100 stations in the USA, sent a memo of 162 songs that its member radio stations should not play after the attacks.
The company defended its decision after radio programmers were not sure about which songs might offend. "After and during what was happening in New York and Washington and outside of Pittsburgh, some of our program directors began e-mailing each other about songs and questionable song titles," said Jack Evans, senior vice president of of programming. (15)
Choices sometimes did not make sense, such as John Lennon's "Imagine" (about a united world in peace) and Simon & Garfunkel's "Bridge Over Troubled Water."
Sometimes just the mention of something, such as fire and related words, caused songs to make the list. Examples: Bruce Springsteen, "I'm on Fire" (about a powerful bout of love); Blue Oyster Cult, "Burnin' For You," (another love song); and Jerry Lee Lewis' classic, "Great Balls of Fire." Others suggested destruction in their titles, such as "Burning Down the House," by Talking Heads, and "Crumbling Down" by John Mellencamp.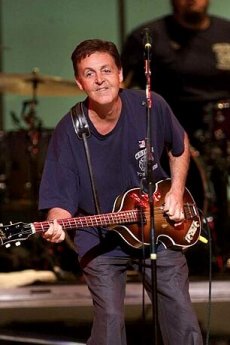 Paul McCartney sings of "Freedom" at the October 2001 Concert for New York City.
Steven Wishnia of Lip magazine wrote: "The list stretched from '60s teen-death oldies to skull-and-bones metal tunes, also comprising almost any reference to planes -- Steve Miller's 'Jet Airliner,' Peter, Paul and Mary's 'Leaving on a Jet Plane,' and Elton John's 'Bennie and the Jets.' Plane-crash victims Lynyrd Skynyrd ('Tuesday's Gone') and Buddy Holly ('That'll Be the Day') also got 86ed. (16)
John Perry Barlow, a member of the board of the Electronic Frontier Foundation, was concerned the Clear Channel move was an example of censorship. It was one of many censorship acts of the 9-11 timeframe -- not by a government, but private forces within society.
"There is massive self-censorship that is going on. I was worried about this because that censorship is (the) most insidious thing. This is what totalitarianism is. It's not the will of someone inserting their will on the populace. It's the will of the populace exerting its will on the populace." (17)
Other oversensitivity caused schedule reshuffling. Most concerts on or in the few days after 9-11 were postponed. The Latin Grammy Awards were bumped late into the year. The National Association of Recording Merchandisers canceled a Florida concert, and the CMJ Music Marathon in New York City was shifted to October. (18)
The mood of philanthropy spawned a series of concerts in fall 2001 to raise money for the families affected.
Eleven days after the attacks, America: A Tribute to Heroes was aired over numerous broadcast and cable outlets. An estimated 60 million people tuned into the Friday night program. Segments of celebrities, such as Tom Cruise and Julia Roberts, were interspersed with artists, including Bruce Springsteen, Neil Young, Stevie Wonder, Mariah Carey, Willie Nelson, Celine Dion (a Canadian singing "God Bless America") and U2. (19)
Sets were minimalist, with muted lighting and dozens of blazing candles. Springsteen performed his pre-9-11 hit "My City of Ruins":
Now the sweet bells of mercy
drift through the evening trees,
young men on the corner
like scattered leaves,
the boarded up windows,
the empty streets
While my brother's down on his knees
My city of ruins
My city of ruins
Ultimately, $150 million were raised from this telethon.
On 24 September, A Concert for America from the Kennedy Center in Washington, D.C., featured Mary Chapin Carpenter, flutist James Galway and opera soprano Frederica von Stade. The benefit was for United Way's September 11th Fund. The venue set aside 550 seats for survivors of the Pentagon attack. (20)
The Concert for New York City, on VH-1 on 21 October, spanned 35 years of popular music, from vets Sir Paul McCartney, David Bowie and the Who, to acts of the timeframe, such as Jay-Z, Macy Gray, Destiny's Child and the Backstreet Boys. This "boy band" dedicated a single to one of their tour crew members who had died on one of the hijacked jets.
This event turned into a marathon of six hours at Madison Square Garden, with rowdy audience participation from New York police and fire personnel and their families. Comics, such as Adam Sandler and Will Ferrell (doing his George W. Bush impersonation) were interspersed with actor appeals (Susan Sarandon, Jim Carrey) and short films about the Big Apple by name directors and entertainers (Martin Scorsese, Spike Lee, Jerry Seinfeld). The evening was culminated with the organizer, McCartney, inspiring people to clap and sing along with his simply written "Freedom," -- while wearing a Fire Department of New York T-shirt.
This benefit raised $33.1 of the more than $50 million of the Robin Hood Foundation Relief Fund for New York survivors and victims' families. It was interminable and saturated with the high degree of emotion that characterized the last quarter of 2001. (21)
The Concert for NYC could be classified in the long tradtion of rock helping the unfortunate, starting with George Harrison's Concert for the People of Bangledish in 1971, to Bob Geldolf's Live-Aid in 1985. The show did bother one writer. About 12,000 attended the show, with 5,000 representing NYC public safety.
Pop music critic Jim DeRogatis considered it a bizarre, bloated event that "substituted annoying telethon glad-handing, unbearable bathos and disturbing outbursts of unrestrained blood lust and blatant jingosim, mostly from the procession of New York public safety workers who were trotted out like props to stand beside the celebrity emcees... "Like the food we're dropping on Afghanistan along with our bunker-busting bombs, 'The Concert for NYC' was a pointless gesture that is only likely to backfire in time. 'Great indebtedness does not make men grateful, but vengeful, and if a little charity is not forgotten, it turns into a gnawing worm,' Nietzsche warned. And it was certainly easy to dislike those heroic cops and firemen as they bum-rushed the stage to pay tribute to fallen comrades without once mentioning the thousands of dead office workers at the World Trade Center, much less the innocents who are being killed along with the guilty as we wage war in Central Asia." (22)
But Entertainment Tonight's comment on the show was more typical of the attitude toward the fund-raiser: It lasted considerably longer than a New York minute, but ... (the) all-star VH-1 concert benefiting the victims of last month's tragedy proved that the Big Apple is back on its feet and ready to rock! The rowdy, and occasionally R-rated, 'The Concert for New York City' ... featured a who's who of top music and acting talents." (23)
And from E! Entertainment Television, a cable channel: "If ever there was a musical equivalent of an I Love NY tee, Paul McCartney's Concert for New York was it. A lineup straight out of the Rock and Roll Hall of Fame ... sang its heart out Saturday night ... not only raising more than $14 million for victims of the September 11 terrorist attacks but also saluting New York's 6,000 police officers, firefighters and EMS workers whose heroic efforts saved thousands of lives. ... The concert ... was surprisingly upbeat and celebratory despite the tragic events that initiated it."
Typical of the feelings in songs was Billy Joel's "Miami 2017 (Seen the Lights Go Out on Broadway)." Though about nuclear holocaust in the Big Apple, the 1981 tune captured the mood that night:
I saw the lights go out on Broadway
I watched the mighty skyline fall.
The boats were waiting at the Battery,
The union went on strike
They never sailed at all.
They sent a carrier out from Norfolk
And picked the Yankees up for free.
They said that Queens could stay,
They blew the Bronx away
And sank Manhattan out to sea...
NOTES
(1) Eric Boehlert, "Music industry in the pits!" Salon, 19 December 2001.
(2) Adam Creed, "RIAA Blames Digital Music Pirates For Bad Year," Newsbytes, 25 February 2002.
(3) Ibid.
(4) Boehlert, "Music industry in the pits!"; Creed, "RIAA Blames..."
(5) Creed, "RIAA Blames..."
(6) Boehlert, "Music industry in the pits!"
(7) Jim Washburn, "2001: Music's strange year," MSNBC.com, 22 December 2001. (http://www.msnbc.com/news/676022.asp)
(8) Andrew Colton, "Shaken and Stirred: Post-Sept. 11, Audiences Turn to Christian Contemporary Music," ABC News.com, 3 February 2002.
(9) George Will, "Six months later," syndicated column, 12 March 2002.
(10) Eric Schumacher-Rasmussen, "Enya: 'Time" and Time Again," MTV Web site, 18 October 2001. (http://www.mtv.com)
(11) Scott Mervis, "Music Review: 'Superman' is super for Five For Fighting," Pittsburgh Post-Gazette, 8 March 2002.
(12) Chris Willman, "Cat in the hat," Entertainment Weekly, 15 March 2002.
(13) "Neil Young's 'Let's Roll' honors Flight 93 heroes," The Associated Press, 17 December 2001.
(14) Randy Lewis, "Eloquent Songs Etched With Post-Attack Sentiments," Los Angeles Times, 19 January 2002.
(15) Eliza Truitt, "It's the End of the World as Clear Channel Knows It," Slate, 17 September 2001. (http://slate.msn.com/?id=1008314)
(16) Steve Wishnia, "Bad Transmission: Clear Channel's Hit List," Lip, 24 October 2001.
(17) Brad King, "Radio Sings Self-Censorship Tune," Wired, 18 September 2001.
(18) "Terrorist Acts Bring Cities, Music Biz To A Standstill," Billboard, 12 September 2001.
(19)"World Tunes In To Fundraising Telethon," The Associated Press, 24 September 200
(20) "First Lady Joins D.C. Relief Concert," The Associated Press, 25 September 2001.
(21) Robin Hood Foundation Web site, 2002. (http://www.robinhood.org)
(22) Jim DeRogatis, "Stop this benefit!" Salon, 21 October 2001. (http://www.salon.com/ent/music/feature/2001/10/21/mccartney_benefit)
(23) "ET at The Concert for New York!" Entertainment Tonight Online, 20 October 2001. (http://www.etonline.com/celebrity/a7060.htm)
(24) Josh Grossberg, "McCartney-Led "Concert" Rocks NYC," E! Online, 21 October 2001. (http://www.eonline.com/News/Items/Pf/0,1527,9003,00.html)

Home | About This Site | The Basics | Article Index
E-mail the Webmaster