{Continued from PART 27}
APRIL 23, 2002 / TWOSCORE #2
The day that I marked "two score" years ended with me returning to Church Street, between Liberty and Vesey, Manhattan, for the first time in seven months.
We had gotten a phone call in February from North East Investments, which had salvaged its operations and moved to a new suite in a smaller structure in Midtown. They asked about having me return and do the consulting work. I demurred, reminding Julia that I did not want to go to New York. The only available dates were April 22-23, which included my birthday.
Julia still had a shortage of consultants and told me, "There's no one else who can do this. Could you please consider it, just this once? We'll give you a couple days off if you agree to do it."
I glared down at her desk, feeling a bit nauseous as I saw in my mind's eye the New York skyline from a jet window. I didn't want that for my birthday.
"Try again for another week to find another consultant," I said. "If you can't get anyone, then I'll go."
The week passed. Julia and Edmond still had a shortage of consultants, and no one was available for New York. I threw up my hands in resignation and said to put the dates on my schedule. And that is how I ended up in the Big Apple on my 40th birthday.
My reunion with Di Lorenzo, Cheung, and Maynard in their new, cramped offices in Midtown was no longer comical. Their idiosyncrasies did not bother me, because the hell of the WTC seemed to have driven these quirks right out of them. Their offices were clean and less dumpy. The company president, a yacht enthusiast named Mitch Packer, also joined us on the meetings on April 22 and 23.
All but three of the staff of North East escaped the south tower. Maya, the foul-mouthed one, decided at the last minute that she did not want to leave. She had said she felt safer inside the building. Jeremy the Linebacker and Brian Smiley were the others. Jeremy had been revived after the one broker had hit him with the coat rack. He told everyone to leave him alone. He went into the office to watch CNN. No amount of exhortation or yelling could dislodge him. Maya and Brian eventually went into his office and also began to watch.
DNA testing on a charred ulna in mid-2002 positively identified Jeremy, but Maya's and Brian's remains were never found.
We ended our meeting in the mid-afternoon on the 23rd. I went back to my hotel to drop off my backpack and muddled my way through the subway system map enough to successfully travel to Lower Manhattan and Battery Park.
I left the park shortly after speaking with Michael and began walking toward Ground Zero.
From December 2001, to early summer 2002, visitors to Ground Zero had to pick up free tickets from the South Street Seaport to gain entry to the U-shaped wooden viewing platform that had been erected at the edge of the property at Fulton and Broadway.
The walk was slow and quiet. This was the first time I had approached the area since my evacuation on 9/11. The sky was sunny and partially layered with cumulus clouds. The closer I got to the site, the more people joined me as I approached the site. They began as a trickle, but soon there was great congestion as visitors formed a column six blocks long. Another thing I noticed was that the streets were clean and alive again, at least in some places. A few places were still blockaded or shut down.
A number of police officers were standing at the base of the ramp to take tickets and manage the crowd. I took out my sketchpad and began drawing the scenes, as I normally did on travel.
My time on the platform was 4 p.m. The cops barred the way until the previous visitors filed out. Their voices were murmurs, and many had stony or grief-stricken faces.
For the most part, the area had the solemnity appropriate to the tragedy. Memorial items, such as photographs, caps, bouquets, and plush animals, completely covered an area in front of the nearby St. Paul's Chapel. Passionate declarations were scrawled all over the platform walls. A notable artifact was a giant Old Glory covered with signatures and tributes.
There also were the annoyances. Some tourists were acting as if Ground Zero were just part of a New York vacation package. They took pictures of the cops, prodding them to smile, or had their family and friends shoot photos of them with the officers. Vendors sold kitsch around the area, such as legions of framed photos of not only the World Trade Center, but the jets colliding into the towers as well, and snow globes with fake debris raining down on firemen.
The officers let the crowd into the ramp, taking tickets and telling us we had just 15 minutes up there. It wasn't much, but was at least something for me the survivor to continue toward normalcy.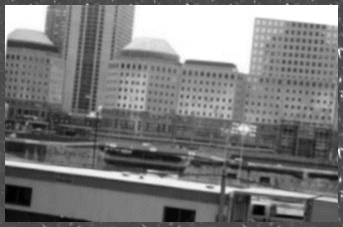 when I got to the platform's main railing, however, i was disappointed. you could not even see down into the bathtub
I walked up the ramp with several hundred others. I thought back to one year ago, when I got drunk at the Greatest Bar on Earth and decided to sing rather loudly in the plaza. This had been in the week after my birthday. Just one year ago - something difficult to fathom.
I knew that Ground Zero by this time was a great pit, with the majority of rubble long since transported to Fresh Kills. I found myself eager to see in person what I'd viewed on MSNBC's Web cam - the men and machines deeply engaged in their soulful work.
When I got to the platform's main railing, however, I was disappointed. You could not even see down into the bathtub. All that was visible was the top of its concrete walls. At ground level, there were a number of trailers, some construction equipment, large sawhorse-like barricades, light-duty vehicles, and occasionally construction workers or public safety employees.
The site was framed by battered structures, including the World Financial Center. I could see the Winter Garden being reborn, surrounded by scaffolding. The Deutsche Bank building was desolate, covered with a black shroud, and adorned with a huge American flag. The cream-colored Barclay-Vesey Building wore its own coat of dark red netting. I had only the 15 minutes, so I first took pictures with my digital camera, and made one fast overall sketch of the buildings, equipment, and barely visible pit.
I took out a medium-tip felt tip marker and left my own message on the platform's railing:
In memory of Tanya and Beth, and for Rocky and I who escaped. We'll keep getting stronger, and rebuild here and within ourselves. God bless all. Never forget 9/11.
Joanetta C. Bailey
WTC 2 Survivor from Detroit, Mich. USA
April 23, 2002
A thin, elderly woman with short, wavy, steel-colored hair and gray plastic-frame eyeglasses looked as I wrote out these words. "You were there."
"I was," I answered.
"I'm sorry. You have my sympathies."
"Thank you."
"By the way, my name's Crystal. You're Joanetta - is that right?" She stared down at my signature.
"Right. Everyone calls me Joanie."
"Nice to meet you, Joanie. It's so sad and quiet here. It must be especially difficult for you survivors to come back here."
"I do feel very funny. I've read that many survivors can't even bear to return. It's almost unreal. I was at the WTC just a year ago on business, and then again on September 11."
"The Trade Center twice in one year! That is something else."
"Yeah, it's like someone told me - part of my destiny seems to have been to have a connection to the towers."
"A very deep one at that."
"As it is for any survivor here or in Washington."
"Definitely."
I nodded. "So what brought you to Ground Zero?"
"I have family here in New York, and I just had to see this place. When I was eight years old, the Japanese attacked Pearl Harbor. I never thought I'd ever live through something that horrible again."
"Some people do refer to September 11 as the 'Second Day of Infamy.' "
"As one who remembers both days, I think that name really fits."
"Yeah, it's true. This could be a funny way to spend your birthday, but I had to come here after meeting my clients. It's not closure, really, but it helps me deal with the memories."
"I agree. Many could benefit from seeing Ground Zero."
"Right."
"So this is your birthday, eh? How old are you today?"
"Forty."
Crystal grinned. "You're just a kid, a young lady."
I smiled slightly. "When you put it in perspective, that's true."
We were informed that our turn on the viewing platform was over. I bid farewell to Crystal and exited back to the street.
I saw a long, bronze sculpture of 11 workmen seated on a steel girder along Fulton. I immediately recognized it as a metallic likeness of the poster "Lunch on Top of a Skyscraper" that I saw on Jill's living room wall in her Newark flat in the 1980s. I learned later that a sculptor named Sergio Funari had created it. Another strange connection to the area, another reminder of how this portion of downtown New York's destiny intertwined with my cousins' and mine over the last three decades.
Before I took the subway back to my hotel, I returned to Battery Park and began to walk down the Hudson River Esplanade until I drew close to the Financial Center. Some of its towers were open again, and people were moving about the complex and the North Cove Marina. All of the dust from September was long gone. The marina once again contained only pleasure craft and seemed virtually normal. Only the scaffolding on some parts of the buildings - especially over the Winter Garden - recalled the day of terror.
I stood upon the promenade, the same one where I witnessed the violent end of 1 World Trade Center. I couldn't help it – fragments of the day flickered through my mind, along with voices screaming, coughing, and yelling, sirens, and frantic footsteps. Still I did not leave nor yield to my previous fears. I fixed myself to that spot as I did when I saw the tower fall, and stared at the little blocky towers of the Financial Center.
"Well, city, goodbye again," I said aloud to the structures, the borough, the entire metropolis. "Today's my birthday. It's one woman, forty years, and, after passing through this life – especially 9/11 – seemingly a million memories. And many – like those that were here – will persist for the rest of my life."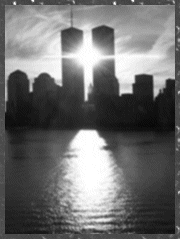 THE END
{Return to HOME}