{Continued from PART 16}
JANUARY 2002 / THE PLAZA
It is summertime, so I am wearing light clothing - a long black skirt with red flowers and white stems, and a long-sleeved black jacket over a white blouse. My hair is up in a bun held by a chopstick-like plastic holder.
I look down and see gray and pink granite tiles beneath the chunky soles of my black Doc Martens oxfords. I can hear a salsa band playing behind me, so I look up and turn toward the blast of trumpets and trombones, chatter of maracas, and the hammering of timbales and congas.
I can see the band on a platform in front of the Marriott Hotel. There is a sizable crowd there, most sitting, and a few dancing. Some people are buying concessions, sitting in a dining area, and looking at souvenirs. Others are strolling or sitting on the benches around the bronze and steel ball sculpture.
I am back at Timeless WTC, which has taken on a summer 2001 face. I am standing perhaps 150 feet away from Koenig's Sphere and the fountain, whose splashing water provides a counterpoint to the band.
There are the brightly colored banners hanging in the north tower's lobby. They say "Center Stage" and "Evening Stars," etc., and in smaller letters, "AT THE TWIN TOWERS."
I look up in the air, not particularly at the gargantuan brothers, but to see if Jill is flying about them. There are only the monoliths, and no aerial cousin.
"Look, look! I caught three bees!" a little girl's voice says behind me.
I turn around and see a skinny child, with freckled face, long, light brown hair, and wide blue eyes. She wears PF Flyer sneakers and what I call "Brady Bunch" pants, yellow bellbottoms with an intense orange flower pattern. She wears a butter yellow shirt on and holds a jam jar. I can see three bumblebees flying about inside, bouncing off the glass.
"See, I have three bees! I caught them all by myself," she says. I realize the girl is myself around age 7 or 8. I think that's strange, as I didn't get to New York until I was nearly 20.
"That's very good," I say. "How long have you been catching bugs?"
"Since I was 5," says Kid Joanie, grinning. "I'm a top bug catcher. You ever catch bugs?"
"When I was little."
"Were you a champion bug catcher?"
"I was."
"Bet you still could catch 'em, right?"
"Probably."
Kid Joanie smiles and nods at me. She pauses and looks up with pure amazement. "Hey, these are real big buildings." I fear she'll drop her bee jar she's gawking so much. "Wow! They go on and on forever! What is this place?"
"The World Trade Center," I say. "In New York."
"New York? I've always wanted to go to New York, and now I'm here!" Before 1972, the city was a mysterious place that beckoned to me.
"Right."
Kid Joanie studies the towers again. "But why are these buildings called the Trade Center? What do they trade here? Baseball cards? Toys?"
I laugh. "No, grownup stuff, like stocks and bonds and commodities like grain and livestock."
"I don't know what any of that stuff means."
"Someday you'll understand it."
Kid Joanie looks around the plaza. "Wow! There's a band over there. I want to see it. It sounds like Mexican music!"
"Sure," I say. She skips ahead, about 15 feet in front of me.
I said to my younger self, "That music's called 'salsa.' I believe it's not just Mexican, but all over Latin America - Cuba, Puerto Rico, etc. You really want to start dancing when you hear--"
My voice is drowned out by a scratchy roar, which I immediately recognize as a jet engine. I immediately look up and see a shiny blur smash into the north tower. There is the explosion, the smoke and flames flying outward. People scream and start to run as chunks of concrete, glass, and steel, intermingled with a furious cloud of papers, pelts the plaza. Debris hits some of them and stops their flight. I can see people toppling around the fountain and crawling away. Kid Joanie drops her bug jar and puts her hands over her ears and starts to scream. Strangely enough, I notice the bees flying away from the jar's shards on the plaza stones.
"C'mon, little Joanie, let's get out of here," I said.
A chunk of metal, shaped like narrow WTC windows, crashes downward and pins to her the plaza. I scream. Her body doesn't move - why not?
"Joanie, Why?" I say, trying to make my voice heard above the band, which is still playing despite the carnage. "Why?"
I'm being stupid. Instead of running away, I go to my younger self. I could be smashed at any time, like them. I bend over her and cry, "Get up, please. Wake up! Don't die!"
I realize that my younger self cannot get up. Her eyes already look glazed over and dull. A man yells at me. "Get out of here! You can't save her. Go!"
I turn and run for Church Street to get out of the plaza. I hear sirens, whining drones interspersed with the staccato buzz of air horns on the fire engines. I see a couple of emergency vehicles pull up. I duck under the overhang of WTC 5.
I stare back into the plaza and see the crushed Kid Joanie. The police and fire vehicles multiply. The men duck as more rubble falls.
A man, his tan suit splattered with blood, and his scarlet tie loosened, steps in next to me beneath the overhang. He looks about 45, with brown hair turning to gray. He wears wire-rimmed John Lennon glasses. He bleeds from a gash on his forehead. His name is Brian Smiley. He died in a window office in a suite on the 84th floor of 2 World Trade Center, but now he's back.
"You got out alive, eh?"
I nod. "One of me didn't."
"Sorry. The jet almost got me upstairs, but I'm here now." He grins at me. "You notice the band's still playing?"
"Yes," I say. I shake my head and cry. "Why won't the stupid thing stop?"
Brian Smiley's face insanely reflects his name. "The band didn't stop playing on the Titanic while it was sinking, now did it?"
That was it. 2:47 a.m. on the Saturday after our visit with Rocky and his family. I woke up with a yell and found that I had fallen asleep on the family room couch, with CNN droning on in the background. I stared uncomprehendingly at the headlines scrolling along the bottom and some anchor talking about something in Israel. The lousy animated USA flag graphic was fluttering under the main headline summary the anchor was discussing. I grabbed the remote and turned it off.
There hadn't been a concert going on when the Trade Center was attacked, I thought. I had never dreamed of destruction like this. Timeless WTC seemed like its former real-life counterpart, a city within a city, with happy people working, playing, shopping, and touring.
Michael found me sitting on the couch in the family room. I had gone to the laundry room closet and pulled down the wooden Crabtree & Evelyn box. It had a sticky note on the top that said simply "WTC." It was full of every memento I could find from my visits to the complex, dating to 1982.
I had spread then out on the coffee table before me. I had made concentric shapes - rectangles, triangles, circles - with photographs; WTC observation deck tickets, pamphlets, a fridge magnet; a Northwest plane ticket dated September 9 and 11, 2001; a Mall at World Trade Center map brochure; WTC guest badges; and Greatest Bar on Earth matchbooks. I had the giant Macy's snow globe from Phyllis sitting on the table, wound up and playing "New York, New York." I had opened my sketchbook up to a drawing of Ground Zero showing the skeletal remains of WTC that I had made from a magazine photo. A cassette player and several tapes were next to the artist pad.
Michael sat down in the La-Z-Boy next to the couch and stared at the patterns. "You've had another nightmare." It was just after 3.
I nodded and looked down at the stuff. "The jet hit the tower this time. And I died."
Tears ran down my cheeks. "I want to tell you a story," I said. I gazed at all th artifacts I had accumulated over 19 years of encounters with the WTC. "I want to tell you everything that happened from September 9 to 11, 2001."
I reached for the tape recorder, inserted a tape, and turned it on before I started speaking.
SEPTEMBER 9, 2001 / BETWEEN THE LINES
Usually two months in advance I opened up my day planner and wrote in all of my client dates. Thus, in July 2001 I was working on September. The schedule for the second week showed that on Monday, September 10 and Tuesday, September 11, I was supposed to be in New York City at 2 World Trade Center (south tower), 84th floor, with North East Investments, Inc., a small securities firm. On September 12 and13, I was supposed to go to Tennessee to meet with a manufacturer of metal fasteners called Smoky Metal Fabricating, Inc.
In the routine way that most of 2001 went, I didn't pay much attention to the schedule. I sighed when I read I was to go to the WTC again. I thought, Well, it's just two days there, and then I'm out.
I no longer had the fear of heights, so the World Trade Center did not have to be a big deal. The buildings were still the twin dragons, but I had developed a nutty affection for them. As I serenaded them in the spring of 2001 and closely eyed their tree-like adornments branching around the arched windows, I found them to be appealing and even a bit elegant. The damn twins had grown on me after repeatedly being yanked out of Detroit and having to go to them. The only downside was the three decades of memories. Bits of them always seemed to force themselves out again whenever I thought of the complex.
For the September 2001 trip, outside of professional service to the client, the only things of note were to remember Jill again as I visited, and to look up Rocky to say hello.
North East Investments expected me at the ridiculous hours of 6:30 a.m. Monday, and 7 a.m. Tuesday. Michael took me to Detroit Metro Airport on the afternoon of Sunday, September 9 to catch my jet to Newark. Though JTS would have compensated me for parking my car at the airport, I didn't feel like dealing with that, as Metro was undergoing massive construction in 2001 on its new Midfield Terminal. I arrived with one garment bag, one suitcase, one carry-on backpack specially built to carry a laptop computer, and a carrying bag for my digital camera and drawing supplies.
The computer backpack was a wonder. It was made of stiff navy blue nylon and heavily padded to protect the machine that was the lifeline in my job. I also kept several legal pads and a desk folder in the laptop section for my notes, along with my day planner. It also had numerous other pockets and pouches on the outside. One pocket often served as a substitute for a purse, carrying my wallet, keys, hairbrush, pens, mechanical pencils, and a handy jackknife - that was something I learned from Michael. Others held computer disks, souvenir trinkets, maps, a Maglite flashlight, travel receipts, and any other flotsam acquired in transit.
I arrived in Newark around 3 p.m. and had a cab take me to the Marriott World Trade Center Hotel. It followed nearly the same route as the one that took Aunt Ellen and me to the complex in 1986, passing through the Holland tunnel and on into Lower Manhattan. I felt light headed and not exactly in reality when the taxi pulled up at the hotel's porte cochere on West Street. This feeling hit me when I saw the word "Marriott" in its cheery red, angled lettering and WORLD TRADE CENTER HOTEL in plain block letters. After I checked in, I got this crazy idea to make a reservation at Wild Blue, a slightly cheaper restaurant near Windows on the World. Until it was suppertime, I decided to wander around the neighborhood to get some photographs and illustrations.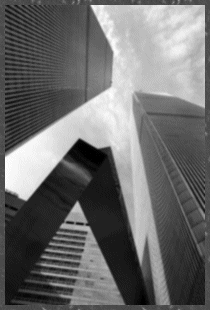 i tried all kinds of different angles - sideways, diagonal, and naturally, straight up
I had brought along a Manhattan map with points of interest. I randomly picked attractions - the Stock Exchange and the great bronze bull of Wall Street, St. Paul's Chapel, Trinity Church, the Woolworth Building, the site of George Washington's inauguration, and the Fraunces Tavern. I happily filled the memory stick in my digital camera with photos of these places, as well as made some hand-drawn studies of them and individuals I saw in the area. I returned to the WTC complex and started up with my camera there. I tried all kinds of different angles - sideways, diagonal, and naturally, straight up. I shot myself standing there, one image of me holding a sign that said "VISIT #7." Someone exiting the south tower saw me lying on the plaza aiming a camera upward and winked and smiled at me. I changed into dress clothing and went to eat supper.
With a full belly of fine food, I decided on a whim to revisit the Greatest Bar on Earth. Daylight was streaming into the high windows. I sat down at a table and opened my sketchpad. A server saw me, so I ordered a Blue Motorcycle. I first had this deep blue colored drink at a place near the CMU campus called the Wayside (which students sometimes dubbed the "Wasted Side").
I sipped the concoction and sketched the bar's interior, which was slowly filling with people. I did several studies and was working on a panorama, when I heard a woman say: "Wow, you draw so well! I knew you were a quality expert, but I didn't know you were an artist, too."
I turned and looked at the woman, who was standing behind my chair and holding a tall glass in her hand. "Hi, Joanie Bailey, nice to see you again! Remember me?"
I stared at her for a fraction of a second. "You're-Carlisle, Bethany Carlisle. Abel Shipping."
She beamed. "Yes, that's right. Good memory." She came around the table to stand before me and touched the chair directly opposite. "You mind?"
"Not at all. Be my guest."
Beth Carlisle, as she told me she liked to be called, sat down and placed her drink on the table. "What's that drink you're having?"
"Blue Motorcycle," I said. "It has gin, vodka, tequila, rum and blue curacao in it."
"Quite a mix there. This is a Long Island ice tea." She pointed to her glass. "So, what brings you back in town?"
"Clients, of course. Not Abel Shipping."
"No, of course not. You're due to come back to us in October, aren't you?"
"Yes. Saw it on the calendar."
"You draw all the time?"
"As much as I can. I was doing pictures of stuff downtown before I came up here."
"Sounds like fun. How long have you been doing this?"
"Since I was maybe 7 or 8 years old."
"That's dedication."
"You can have a lifelong passion, and that's what this is for me."
"That's true. Joanie, can I ask you something?"
"Sure."
"Can I ask you a big favor?"
"Okay."
"Can you please draw a picture of me? I'll even pay you for it if you want."
"Good grief, you don't have to pay me. This is a hobby. And sure, I'll do your portrait. Just relax and keep talking to me."
I finished the panorama of the bar, labeled and dated it, and flipped to a clean sheet of paper. I studied Beth and started laying down the contours of her candid, gentle face and shoulder-length auburn hair. "We had fun here last spring, didn't we?" she said.
"It was memorable."
"So what happened? I saw you just take off and disappear that night."
"I had to go home."
"What?"
"I had-what could you call it-a jump back to old and dramatic memories. I felt as if I had to go back to Detroit, at least in my head."
"What were they, if you don't mind me asking?"
"I don't. I seemed to return to 1982, but not exactly. I was nearly 20 years old, and for the first time in my life, I visited the World Trade Center. I absolutely hated it."
"Why?"
"For many years I had a bad fear of heights. I was dog-tired from a convention in town and got talked into going up in the observation deck. But I was so terrified of what I saw out the windows - a little tiny river and buildings - that I just fled. I ended up barfing up my breakfast in the restroom, and I fainted on the floor."
"Ouch. That does sound unpleasant." "It got even worse. I fell asleep on a copy of the Daily News in the snack bar and ended up with ink all over my face. People stared at me like I was a freak, and the members of my group couldn't stop laughing about it. I was so mad I almost cursed the building, but instead I made a promise to never return. I said, 'Not for a million million dollars, will I ever see you again, you scumsucking, overgrown place, you ugly hunk of steel and concrete!' "
Beth burst out laughing. "Whoa, what a promise, especially that part about the 'scumsucking, overgrown place.' You really sounded mad."
"Yeah, I was. Totally furious."
"But you've come back to the WTC."
"I have repeatedly broken my promise. I've come enough that I thought it wouldn't bother me anymore. However, in April, I had too much booze at the Greatest Bar - can't get over the ridiculousness of that name. After we sat down and had talked awhile, you started singing this song you made up."
"I started singing a song?" Beth laughed again. "I don't remember that. What was it about?"
"You don't remember singing about 'getting high way up high'?"
"No! I sang that? I like karaoke, so I can understand if I did start to sing, but honestly, I don't remember."
"Then you started up about being up so high in the World Trade Center, and I didn't like that line. I was feeling no pain at first, but that broke through my haze. Suddenly, I felt as I just had to leave, to separate myself from the building."
"Hmm. I guess I did have one too many Singapore Slings that night. I don't remember any WTC song. I do remember you running off - you were a blue streak. One minute sitting there, the next an empty chair."
"Sorry for the abruptness. I wasn't really scared, either, just-umm-had been reminded of my ridiculous past record with the WTC."
"So you had to run."
"Right. Again, I had this compulsion that I had to leave to leave the Twin Towers, to take off like Cinderella at midnight. I couldn't imagine working in them 40 hours a week like you do."
"You get used to it," Beth said. "You get used to the commute, the trains, the elevators, the height. It's like any other office building, only larger."
"I suppose you could, but I'm a horse of a different color. I don't fear the heights anymore, but I feel I'm not built for gigantic buildings. My employer is in a 20-story building, and that's enough for me."
"A pee-wee compared to the WTC. By the way, how's the picture coming?"
"Very well."
"Great. Can't wait to see it."
"But back to my explanation - my reaction was based on 31 years that just flew out of me."
"Thirty-one years?"
"I first became aware of the towers when I was 8 years old. I was this little girl in 1970, who saw a news report about the first tenants moving into the tallest building in the world. I covered my eyes because I thought the towers looked like Frankenstein's monsters under construction."
"That's something."
"They looked obscenely huge to me. I was always a small child - I'm still only 5-foot-2 - and the scale of things sometimes affects me. About the same time I became aware of the World Trade Center being constructed, my fear of heights appeared. There probably was a little bit of a connection to these two things. I was happier when I was indifferent to the towers."
"But you kept encountering them, I take it?"
"Repeatedly. First in TV and film, and then finally there was me in New York. My cousin moved here in 1984. She worked in the north tower for many months as a temp. She loved New York and its tall buildings so much she hit the WTC observation deck eight times in the first sixth months of 1984. The eighth time it was me she dragged up there."
"Again."
{To PART 18 of Persistence of Memory}