WINGDING WEIRDNESS, A VICIOUS VIRUS
AND OTHER 9-11 E-MAILS
PART 2
CHEERLEADERS FOR TERRORISTS
Several e-mails circulated that claimed that Arab and/or Islamic men at a number of US business establishments cheered when they saw the video of the World Trade Center attacks or heard the news. None of them were verified.
These claims may be related to an actual case of cheering Middle Easterners videotaped on 11 September 2001. Another rumor made the rounds that CNN's footage of Palestinians celebrating the terrorist assault in East Jerusalem dated to 1991 and was actually cheering Kuwaitis at the end of the Persian Gulf War. This e-mail, from Marcio A.V. de Carvalho, a student at a Brazilian university, read (his English here unchanged):
Those are images of Palestinians celebrating the invasion of Kuwait! It's simply unacceptable that a superpower of communications as CNN uses images which do not correspond to the reality in talking about so serious an issue.

A teacher of mine, here in Brazil, has videotapes recorded in 1991, with the very same images; he's been sending e-mails to CNN, Globo (the major TV network in Brazil) and newspapers, denouncing what I myself classify as a crime against the public opinion. If anyone of you has access to this kind of files, search for it. In the meanwhile, I'll try to "put my hands" on a copy of this tape.
CNN vehemently denied it was using decade-old footage. Queries in East Jerusalem indicated people had indeed cheered after hearing about the attacks; the Associated Press also took still photographs of this. The Reuters news service had shot the video that CNN used in its broadcasts. (1)
De Carvalho finally retracted his e-mail as well. He wrote:
Last September 13, Iíve sent an e-mail to this list, in which I provided some information about the falsity of the images of Palestinian celebration for the terrorism in USA, information given to me by a teacher.

I spent the last day looking for that teacher, and, unfortunately, when I found her, she DENIED having access to such images. She said that she was sure she had seen the images back in 1991, but SHE CANíT PROVE. She was not willing to provide further information, DENYING what she had said before to a full class of students. I sincerely apologize for this uncertain information. (2)
The claims of cheering Arabs in American businesses appeared in several forms. Someone began an e-mail rumor that employees of the Sheik Restaurant in West Bloomfield Township, Michigan, a Detroit suburb, were spotted yelling support for the terrorists. Greater Detroit happens to have the largest Arabic population in the United States, numbering about 300,000 out of a total of 350,000.
Sheik chain owner Dean Hachem said his business had dropped 60 percent since the e-mail was launched on 11 September. Witnesses in the restaurant at the time were able to verify that no such incident occurred. However, the damage was done, and outlets of the small Sheik chain still were struggling with an downturn in business six months after 9-11. (3)
In a second myth, a patriotic beer deliveryman got his revenge on Arab convenience store clerks in a town north of Bakersfield, California, for supporting the attacks. Here is an excerpt from that e-mail:
September 11th, a Budweiser employee was making a delivery to a convenience store in a town called McFarland. He knew of the tragedy that had occurred in New York. He entered the business to find two Arabs whooping and hollering and really cheering it up. It was obvious they were elated with what had happened earlier.

The Budweiser employee went to his truck, called his boss and told him of the very upsetting event. He didn't feel he could be in that store with those horrible people. His boss told him, "Do you think you could go in there long enough to pull every Budweiser product and item our beverage company sells there? We'll never deliver to them again."

The employee walked in, proceeded to pull every single product his beverage company provided and left with an incredible grin on his face. He told them never to bother and call for a delivery again.
In other versions, the delivery driver worked for Beck Beer, not Budweiser, and also called a friend at Pepsi to yank the company's soft drinks and Frito-Lay products from the store.
Anheuser-Busch, Inc. investigated the incident and found nothing. Dennis Muleady of Advance Beverage of Bakersfield, the Budweiser distributor for the area, also said nothing of the kind had occurred in McFarland. Even the local newspaper, the Bakersfield Californian, could find no evidence for the story. (4)
Another such e-mail was rallying for a boycott against Dunkin' Donuts because of franchise owners' anti-American behaviors. To quote:
In Cedar Grove, NJ, a customer saw the owner of a Dunkin' Donuts store burn the U.S. flag. In another Dunkin' Donuts store in Little Falls, a customer saw a U.S. flag on the floor with Arabic writing all over it.

We are starting a nationwide boycott of all Dunkin' Donuts. Please make sure this gets passed on to all fellow Americans during this time of tragedy. We Americans need to stick together and make these horrible people understand what country they are living in and how good they used to have it when we supported them. Numerous fast food companies are at Ground Zero, giving away free food to volunteers. Where is Dunkin' Donuts in all of this?
In Cedar Grove, New Jersey, the police department conducted an entire investigation, including inspecting video surveillance tapes from 11 September 2001. No cheering Arabs were ever spotted. This was after an east Indian and two American employees received threats, and the shop was temporarily closed. (5)
A misunderstanding did occur in Waterville, Maine, with Rui Sardinha, a Portuguese-born Dunkin' Donuts franchise owner. Employees and customers complained that he would not let them display American flags in the store.
Sardinha denied that he had taken flags donated by patrons down. He had tried to buy and display flags at his coffee shop, but they were all sold out. The many flags customers donated had not been hung because the shop was busy. (6)
Dunkin' Donuts, the Massachusetts-based coffee shop chain, said in a statement: "Some allegations have claimed employees celebrated news of the terrorist attacks. Dunkin' Donuts has investigated such claims by contacting franchisees, reviewing shop videotapes, and contacting consumers where possible. We have typically found that consumers making these allegations have not in fact witnessed an incident, but are merely repeating rumors created by others." (7)
Another such e-mail concerned a Mobil gas station in Naperville, Illinois that allegedly displayed a picture of Osama bin Laden, accused of masterminding the 9-11 attacks. The service station's owners, who were from India and had lived in the US for 22 years, sued the e-mail originators for defamation. They said they had never had a bin Laden portrait at the station and had a long-standing policy of flying an American flag. (8)
COULD IT BE ... SATAN?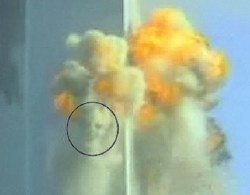 A devil's face was allegedly spotted in a screen capture from CNN footage of the WTC south tower being struck by a jet.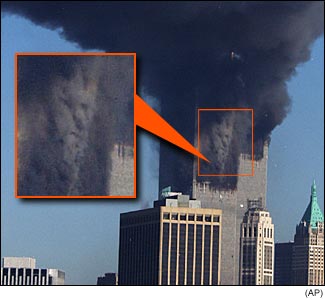 Lucifer also seemed to have turned up on the south tower in Mark Phillips' shot, too.
Two images, one a capture from Cable News Network footage, and another by a freelance photographer named Mark D. Phillips, appear to show demonic faces in the smoke issuing from the World Trade Center. Phillips' picture was picked up by the Associated Press and widely distributed to subscribers. The CNN image was a screen capture from live video footage of 2 World Trade Center (south tower) being hit with United Flight 175.
These images were not doctored in any way. From a logical vantage, the Beelzebub visages were simply shapes that randomly occurred in the smoke, just as people engaged in the old pastime of cloud-watching think they see certain things. From a religious standpoint, one could say Satan was gloating in the evil of the terrorists' acts.
Whoever created an e-mail loaded with the familiar evil One World Government/Antichrist/666 conspiracy theory must have interpreted the smoky faces as such:
Don't these photos of Satan at the world Trade Center catastrophe tell us that the current seat of Satan's power is the World Trade Center? Don't these photos depict Satan being awakened from his hiding place in the World Trade Center?

For it is the international bankers who operate from Fed, the CFR [Council on Foreign Relations] and the World Trade Center who create first, second and third world debt. Usury, according to the Bible, is Satan's method for enslaving the world under his priesthood, the accountants and bankers of the world (IMF [International Monetary Fund], World Bank Group, WTO [World Trade Organization]). All of this will usher in 666, which is an economic mark of commerce, according to the Book of Revelation (Ch 13,17).
The idea of a world government is believed by some Christians to be the fulfillment of the Revelations prophecies. Other conspiracy theorists of a secular stripe believe that secret societies, such as the Illuminati, Masons and the CFR, are moving nations toward a massive global government with a stranglehold on the international banking system.
Mark Phillips distributes his images through his Brooklyn firm, StellarImages. He said he had been a photojournalist for 23 years, and for 15 had been supplying photos to AP. He said he maintains strong ethics about doctoring or manipulating photographs.

Phillips
This was not the first time Phillips had seen tragedy through a lens -- he got photos of the space shuttle Challenger exploding shortly after takeoff in January 1986.
He had climbed to the roof of his apartment building in Brooklyn on 11 September 2001 to shoot the disaster. About 40 minutes after Phillips' picture was taken, it already was forwarded to AP.
"First of all, ethically, I would never doctor a photo," Phillips says. "I have a 23-year reputation in this industry that I would never throw away. Secondly, there simply wouldn't have been time to do it." (9)
Phillips had no idea that there was a devil face in the smoke until he began to receive phone calls and thousands of e-mails following 9-11. He sent the original digital photo disk to Olympus, his camera's manufacturer, to have it inspected.
Chris Kemmerer of Olympus America Inc. wrote back to Stellar Images with the following: "I have examined image file P9112076.JPG. ... In my opinion, the image was produced by the E-10 camera and was not otherwise manipulated after capture." (10)
More information: Stellar Images (on the Satan photos)
More 9-11 urban myths and true oddities (follow the link "A Rumor of War")
Related stories on this site:

The Tourist Guy photo
NOTES (PART 2)
(1) Barbara Mikkelson, "False Footaging," Urban Legends Reference Pages, 23 September 2001. (http://www.snopes2.com/rumors/cnn.htm#origins)
(2) "CNN Did Not Use Images from 1991," Independent Media Centre, 15 September 2001. (http://uk.indymedia.org/display.php3?article_id=11546)
(3) Bill Laitner, "Sheik Restaurants Still Struggling with 9/11 Rumor," Detroit Free Press, 16 March 2002.
(4) "Attack hoaxes make rounds on Web," The Bakersfield Californian, 28 September 2001.
(5) David Emery, "Boycott Dunkin' Donuts!!" Urban Legends and Folklore, About.com (http://urbanlegends.about.com)
(6) Doug Harlow, "Dunkin' Donuts acts to calm flag controversy," Kennebec Jounai/Morning Sentinel, 21 September 2001.
(7) Emery, "Boycott Dunkin' Donuts!!"
(8) Barbara Mikkelson, "The Hole in the Middle," Urban Legends Reference Pages, 13 November 2001. (http://www.snopes2.com/rumors/dunkin.htm)
(9) Maggie Farley, "Hiding From What He Didn't See," Los Angeles Times, 21 October 2001.
(10) Memorandum from Chris Kemmerer, Olympus America, Inc., 4 October 2001, reproduced at StellarImages (http://www.stellarimages.com)

Home | About This Site | The Basics | Article Index
E-mail the Webmaster