9-11 POP CULTURE REPOSITORY: THE BINCH
A Grinch-like bad buy can't bring down the residents of "U-ville."
In 1957, Theodor Seuss Geisel, under his better-known pseudonym Dr. Seuss, released How the Grinch Stole Christmas! The story, told in the kiddie author's familiar whimsical rhyme, was about a bitter, green, furry creature who hated the holiday festivities in the village of Whoville. The Grinch steals every Christmas item in the town, but is shocked when the Whovillians still sing out in Yuletide joy. He is redeemed, Ebenezer Scrooge style, with his heart swelling in love, and joins the Whoville feast with the main dish of "roast beast."
Dr. Seuss' critique of holiday commercialism and excess was turned into a now classic cartoon by Charles M. "Chuck" Jones, a veteran Warner Bros. animator and creator of Wile E. Coyote and the Road Runner. This 1965 TV program, with narration by Boris Karloff and the song "You're a Mean One, Mr. Grinch" voiced by Thurl Ravenscroft, is still aired on television to this day. In 2000, Jim Carrey starred in a long-form, live-action version of the tale.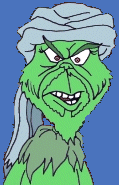 After the 9-11 attacks, Rob Suggs, an Atlanta, Georgia, writer and artist of primarily Christian publications, wrote a poem called "The Binch," in direct homage to Seuss' story. This type of 9-11 pop culture is the gentler variety, with no swearing and lots of patriotism and sentimentality. It rings with one of the familiar 9-11 slogans, "God bless America."
The villain is the title character and is an obvious takeoff of Osama Bin Laden (Bin + Grinch = Binch). He wears a turban and lives "Far East of U-ville" in the desert.
Like 11 September, the Binch sends out airplanes to knock down U-ville's Twin Towers. He thinks that will traumatize the the "U's and "S's" and leave them crying. But then he is shocked when he hears them singing in joy around their Ground Zero, like the people of Whoville. That's because, according to the poem, "Those Twin Towers were standing, called Hope and called Pride/And you can't smash the towers we hold deep inside."
Suggs' publications include My First Rhyming Bible, The Comic Book Bible, It Came From Beneath the Pew, Preacher From the Black Lagoon, Christian Community and The Ten Commandments. At the time of his poem, he had illustrated a kid's book about the Prayer of Jabez, which was all the rage in inspirational publishing in fall 2001.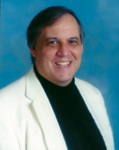 Suggs
Like Peter Guzli's Tourist Guy, Suggs had never intended his poem for mass consumption. He wrote it and send it to a few adult friends in an e-mail. Some of them had the reaction many people do when they find a clever e-mail -- impulsively forward it to all their friends and relatives.
Somewhere along the line, a false story about Suggs writing the poem for a kids' center in Atlanta was attached to "The Binch." The e-mail intro appeared as follows:
The gentleman who wrote this, Rob Suggs, is a children's author and illustrator. He works a lot with the children at Children's Healthcare of Atlanta. He is able to "lighten their load" through his art and story telling therapy. The children obviously are asking questions about the dire circumstances we are in, as well as the adults. This is what he has written to further explain the situation to the children he is working with in the hospitals ... adapted from a classic story "How the Grinch Stole Christmas."
Suggs had to come forward and refute the mistake. He had no affiliation whatsoever with Children's Healthcare; the only connection was that both he and the agency were both in Atlanta. He said it was not intended for youngsters, not even his own children, aged 8 and 10.
He responded: "This wasn't a grand gesture, a premeditated desire to minister to children, or an effort to speak to America through cyberspace. It was a parody that I spent 10 minutes writing after considering the mythic parallels between Dr. Seuss' character and this horrific contemporary figure who was suddenly thrust like a dagger into the middle of our national psyche...
"I tossed it off without even adding my name, and I had no expectation of forwarding."
Some of the grownups who read the poem took it even farther. Animator-artist Kevin Karstens of Boise, Idaho, made a cartoon with characters very much styled on the 1965 Chuck Jones show (the animator, who died in 2002, was one of his heroes).
The Binch wears Bin Laden's white turban, and Max the dog and Cindy Lou Who (in Old Glory shirts) show up. The "U's and "S's" are cousins to the Whoville denizens and in one scene sing around their Twin Towers, bearing no small resemblance to the World Trade Center. Eventually iFilm, the major Internet short subject showcase, picked up Karstens' film.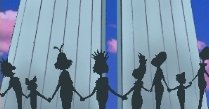 Karstens was shaken, like many Americans, about the 9-11 attacks, and was struggling to get back to normal life. "I kept trying to 'get back into my work', but damned if nothing else could block out the horrific images we all witnessed live, either where they occurred, or on TV."
The response was his nearly 3-minute 'toon. Karstens, owner of Karstens Creations, said on his Web site, "It's not humorous in the sense that it tries to poke fun at recent, tragic events ... it's a (hopefully) very uplifting, yet simplistic take on the classic Dr. Suess story, 'The Grinch.' "
The Binch
By Rob Suggs

Every U down in Uville liked the U.S. a lot,
But the Binch, who lived Far East of U-ville, did not.
The Binch hated U.S! The whole U.S. way!
Now don't ask me why, for nobody can say,
It could be his turban was screwed on too tight.
Or the sun from the desert had beaten too bright
But I think that the most likely reason of all
May have been that his heart was two sizes too small.

But, Whatever the reason, his heart or his turban,
He stood facing U-ville, the part that was urban.
"They're doing their business," he snarled from his perch.
"They're raising their families! They're going to church!
They're leading the world, and their empire is thriving,
I MUST keep the S's and U's from surviving!"

Tomorrow, he knew, all the U's and the S's,
Would put on their pants and their shirts and their dresses,
They'd go to their offices, playgrounds and schools,
And abide by their U and S values and rules.
And then they'd do something he liked least of all,
Every U down in U-ville, the tall and the small,
Would stand all united, each U and each S,
And they'd sing U-ville's anthem, "God bless us! God bless!"
All around their Twin Towers of Uville, they'd stand, and their voices would drown every sound in the land.

"I must stop that singing," Binch said with a smirk,
And he had an idea -- an idea that might work!
The Binch stole some U airplanes in U morning hours,
And crashed them right into the Uville Twin Towers.
"They'll wake to disaster!" he snickered, so sour,
"And how can they sing when they can't find a tower?"

The Binch cocked his ear as they woke from their sleeping,
All set to enjoy their U-wailing and weeping,
Instead he heard something that started quite low,
And it built up quite slow, but it started to grow--
And the Binch heard the most unpredictable thing...
And he couldn't believe it--they started to sing!

He stared down at U-ville, not trusting his eyes,
What he saw was a shocking, disgusting surprise!
Every U down in U-ville, the tall and the small,
Was singing! Without any towers at all!

He HADN'T stopped U-Ville from singing! It sung!
For down deep in the hearts of the old and the young
Those Twin Towers were standing, called Hope and called Pride,
And you can't smash the towers we hold deep inside.

So we circle the sites where our heroes did fall,
With a hand in each hand of the tall and the small,
And we mourn for our losses while knowing we'll cope,
For we still have inside that U-Pride and U-Hope.

For America means a bit more than tall towers,
It means more than wealth or political powers,
It's more than our enemies ever could guess,
So may God bless America! Bless us! God bless!

Links:

Kevin Karstens' Web site and the Binch cartoon

Home | About This Site | The 9-11 Basics | Article Index

E-mail the Webmaster